Fullscript is our choice distributor for supplements.
It requires you to have an account set up by us to use. If you are a new patient, an account will be set up for you during your first appointment. If you are an existing patient and do not already have a Fullscript account, please let us know and we will set one up for you! Once your account is set up, you can order anytime by clicking the button below: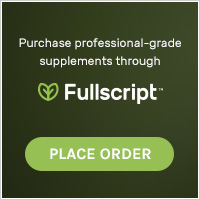 Ordering is easy:
First, you will need to open the email from Fullscript to create a password.
Once you create a password you can order by going to their website. Pro tip: bookmark this website for easy access!
When you are logged into your Fullscript account, you will have access to order supplements that have been recommended for you.
Please note that when items are on backorder, a different size may be available, so try to select different sizes to check for availability. If no sizes are available, just let us know. We can often order the product through a different distributor for you.
If an item is on back order and you are interested in a replacement, it is best to contact me through the patient portal for a suggestion.
You also have access to order other supplements that we previously carried at the office simply by logging into Fullscript and selecting to view the catalog. If you don't see a product that you need to order, please just give us a call!